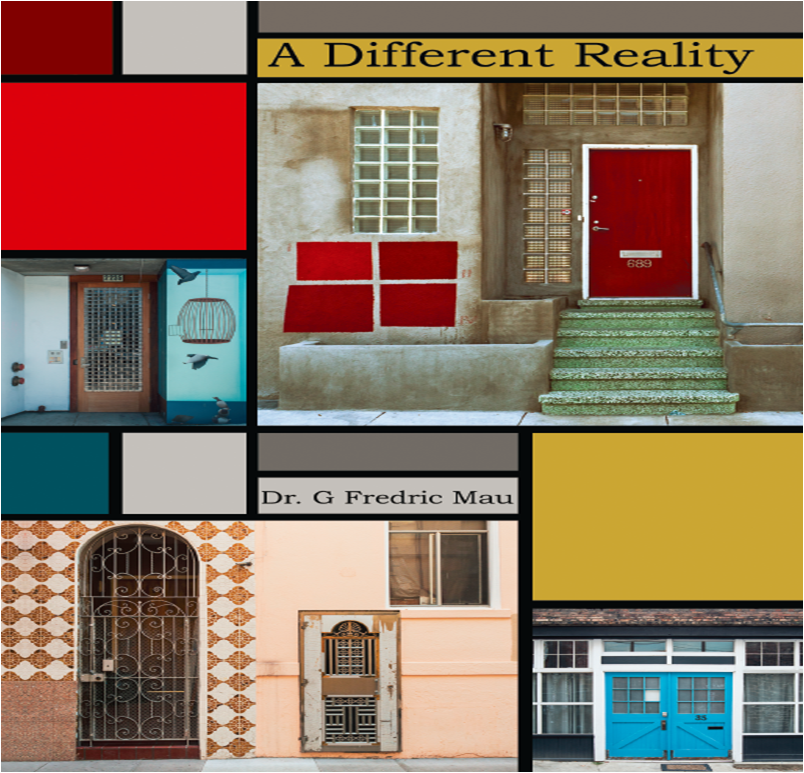 Dr. Mau's new book A Different Reality: Adventures in narrative therapy & a protocol to address anxiety disorders and insomnia is now available!
We are the stories we tell ourselves, and our stories are powerful.
A Different Reality
provides a model for therapists using narrative therapy - the use of stories and metaphor to help clients change their lives. The book provides a protocol of six hypnotic metaphors for the treatment of anxiety disorders.
You can also order from Amazon:
I am in my office, thinking of Alissa*, one of my clients, as I sit down to write this. Beautiful October late afternoon sun filters through shrubs and spills in the window. I want to write about the power of stories to change the meaning of our lives. I am thinking of the fish. Apparently Alyssa is thinking of me, too; the email shows a new message arriving from her.
The last time I saw her was Wednesday, two weeks ago. We have never met in person; we chatted via FaceTime on my iPhone. I remember she looked stressed. Her father's health is declining, and he had just moved into a nursing facility.
"Every time I go see him, he is so demanding, focusing on minor things, like whether he has enough Depends. I know the man I love is there, but—" she paused. "He's having more and more trouble talking. I can see him suffering. He fell again."
I heard her voice crack. "So much is happening here," she said. "The kids have school, soccer. I just want to isolate, hide away and stay in bed."
"Have you ever been in a pet store and seen the goldfish tanks," I interjected into one of her pauses. I could see her on the small screen; the pattern interrupt has shaken her. I saw the confusion opening her to the possibility of new meanings.
"They are swimming and swirling in the big tank, maybe 20 or 50 or 100 gallons. Dozens, maybe hundreds of fish," I said. "But then, when someone goes to buy one, there's that little clear plastic box that holds maybe a pint of water that they hang inside the tank; and someone scoops the fish with a net, and drops the fish in the little box, and the fish goes frantic, darting around that small container, suspended, it seems, in the midst of the schools swirling in the tank."
"I'm the fish!" she exclaimed. A look of clarity flashed across the iPhone screen.
"Perhaps." I said. "Or perhaps your father is the fish. His world has been expansive, but now it's very small. You can see him getting frantic as the world closes in around him. And he's focused on small things. Like Depends. It makes sense."
I saw recognition in her eyes, an almost imperceptible release of relief in her face.
"Are you familiar with Dave Barry?" I asked.
Alissa looked puzzled. "Seems familiar—I'm not sure..."
"He wrote a humor column for the Miami Herald," I said. Alissa is pulled in now, thinking of things differently, off the track from the spiral of angst she was in when we started. I could see her interested confusion, the non sequitur of the goldfish. The possibility of a sudden shift in meaning, of real change.
I'd been helping her with anxiety, sleep, pain relief. We'd done the Three Doors and other metaphors in this book. She had a lot to balance, and we'd made real progress. This was a new moment, though. Even through the business-card-sized screen and the ear buds, I could feel the emotion of her change.
I remember flying to Munich for the first time, back while my own father was still alive, gliding across the Atlantic with my 19-month-old daughter Amelia, my wife Sandy, and our 16-year-old foster daughter Jennifer, stifling snickers and sometimes hoots of laughter while I read Dave Barry's book, Bad Habits. My wife smiled and rolled her eyes and wished I would be a little quieter on the plane.
"Barry wrote a column called 'A million words,'" I said. I don't think it was in Bad Habits, and I'm not sure when or where I read it. I didn't mention that, or the plane trip, or my father to her. This was her session, not mine.
"It wasn't a funny column, but I think it may be the best thing he ever wrote. It's about the last time he saw his father," I continued. "The conversation was something mundane, but that was okay. Barry had shared a million words with his dad, his entire life. He didn't need more for their relationship to be complete."
I could see understanding dawn on Alissa's face. "You know," I continued—and that was definitely a suggestion—"You've told me before you have a great relationship with your father."
"Yes," she said.
"But that relationship is not about hurting or Depends or grief." I said the last word, knowing from what she'd told me before that it was the right word. "Your relationship is about joy. It always has been, right?"
"Yes," she said, and I knew the inoculation is in place. And somehow I knew she would need its protection soon.
"You know, sometimes people have trouble moving past grief. They sometimes feel like it's a betrayal, like letting someone go. And grief definitely has its place. But your relationship with your father has always been about joy. And some time you'll return to that. Return to that joy." I nod, knowing it is a small motion on her iPhone.
I don't consciously recall until later that master therapists value cognitive complexity and the ambiguity of the human experience, and that the life experiences of master therapists become a major resource for them.
"I wonder what you would do differently today with your father if you wanted joy to return to the center of your relationship." I paused.
"And, even though he owns his emotions, of course, I wonder what you might do to help him have more of a sense of purpose now, while he's feeling like a frantic fish in a small tank."
I could see the relief on Alissa's face, the wheels turning in her mind. Our discussion continued for a while, but we both knew the work had already been done. Meaning had shifted, and she was living a different reality now. For the first time, we didn't even do a relaxation hypnosis process in our session.
Now, as I write this, the sky is fading deep October blue to purple beyond the leaves outside. I click on Alissa's email; "My father passed away peacefully Thursday night. I will get back to you..."
Columbia, South Carolina
October, 2014
*Client stories in this book are true, but names and identifying information are changed to protect privacy.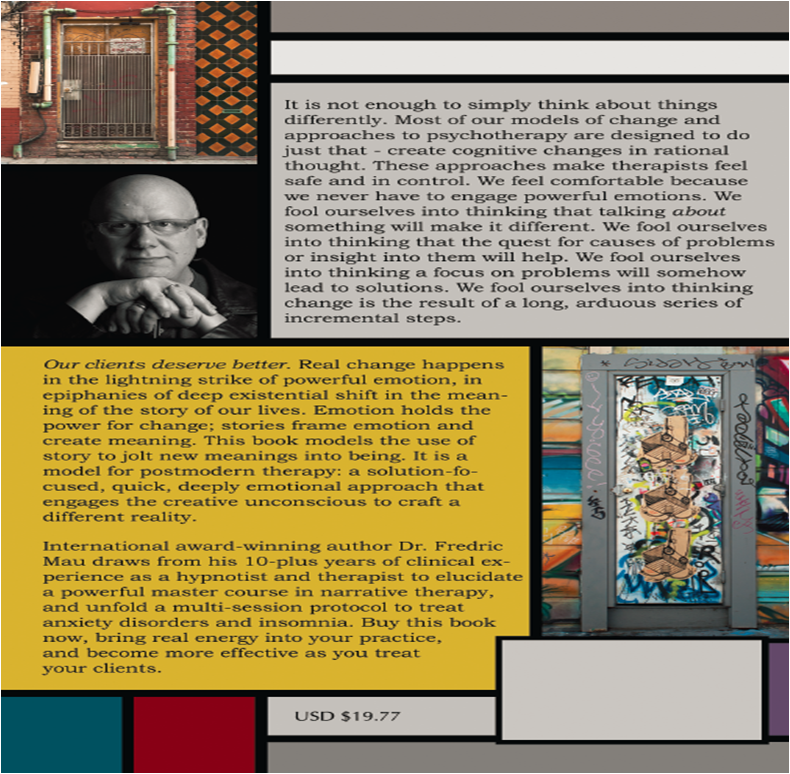 Click here to contact Dr. Mau or schedule your free consultation

Cover photograph and design by award-winning photographer Libby Gamble,
libbygamble.com

Direct ordering links:
Check out Dr. Mau's first book: